Description
In May 2023 I hiked across the north of England on the wonderful Coast to Coast Walk! The hike took me through the North York Moors National Park – when I first saw the moors they took my breath away.
(Here is a post with a video I took of the amazing moors : )
I sat down that day and painted the following "feelings and impressions" watercolor of what I was seeing.
I just could not get over the beautiful colors!
Alive and fresh on this beautiful day in this beautiful place: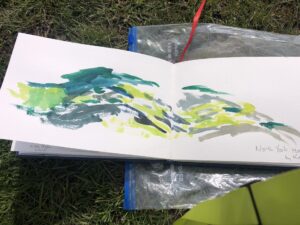 I knew I'd take this feelings and impressions painting back home – back to my easel – and have such fun interpreting these colors and this feeling into a larger pastel painting.
First Glimpse of the North York Moors is that painting… capturing both the size and scope of these incredible moors and this mountainside. And also the details of the grasses, and rocks in the foreground.
When I look at this painting I am back on the moors!
It gives me such joy to look at. I hope it gives you that joy too.
Pastel on my favorite kind of sanded paper, Luxarchival, 8 x 10″.
**Price includes global shipping and all taxes.
Created with lightfast, acid-free, archival materials.
Ships securely packaged and lovingly giftwrapped.
THANK YOU for supporting this independent artist : )