Description
This painting came about after the experience I share below… It's of Camden Harbor, getting on toward sunset.
It's a direct result of the evening in 2022 that I tuned out fear and embraced something new!
It's pastel on textured board, 10 x 16″.
**Price includes global shipping and all taxes.
Created with lightfast, acid-free, archival materials.
Ships securely packaged and lovingly giftwrapped.
THANK YOU for supporting this independent artist : )
Okay, here's the story of the trip that inspired this painting!
Can art save lives?
I cannot tell you how scared I was driving up that mountain.
We'd already been there once that day in June 2022 – and it was our 25th anniversary trip. We were vacationing for pleasure after all! And I wasn't lost. Why was I so scared?
I was stepping way out into an unfamiliar world, toward something I wanted with all my heart.
After years of taking advice to "agitate your target customer's pain points" (so they'll buy your product) and "never stop working, good things come to those who hustle" (so you aren't left behind in the busy marketplace) I was beginning a new habit.
Two new habits.
First I asked myself, what would give me joy?
Second I asked myself, what would feel restful?
The answer was at the top of this mountain. Well, part of the answer was there. The other part rattled along next to me in the passenger seat.
I parked just as the sun hit the top of the trees behind me. I had about an hour before Camden Hills State Park closed. Walking around to the passenger side I opened the door and pulled out my art supplies and camping chair.
I practically had the whole place to myself. Most visitors to the top of Mount Battie had gone home by then.
Mount Battie, isn't that a great name? It's in Camden Hills State Park, with views east toward Camden Harbor, the islands, and the vast Atlantic ocean beyond. We first went there on our honeymoon 25 years ago, and then this morning, and here I was back. All by myself and face to face with my deepest fears and greatest hopes.
My heart beat so loud and fast I could feel it in my throat as I carried chair and backpack filled with pastels and paper close to the cliff's edge.
My hands shook as I set up my chair and arranged my supplies.
Masts in the harbor and churches in the village below me caught the sun. A wisp of fog played in the harbor. I breathed deeply, reminded myself "you're here to rest and enjoy," let go and began painting.
I've learned that plein air art – simply, creating art outside – is meant to help me remember the feelings of place and what was most important to me as I created that art. I love this. It frees me from trying to make a perfect finished piece! It frees me to rest and enjoy.
I made two paintings that day. They are both quite small, about 5 x 7" each.
As I painted the first painting, that tiny wisp of fog down in the harbor grew and grew and grew. And grew! In the 15 minutes or so that I painted, I became ensconced in a world that was only fog, the wildflowers about 10 feet in front of me, and the solid rock of the cliff upon which I sat.
The sun continued to set behind me and when I looked up from my painting I saw my own shadow in the bank of fog. I waved at myself. I saw many rainbows and wondered if the me in the fog was me, in another dimension and at another time. I wondered if the time-space continuum was wrapping around itself like in the movie Interstellar.
These all seemed like perfectly normal and lovely conjectures.
I was no longer scared. I painted and felt rested and joyful.
The first painting is all purples and greens, a wall of fog and bright wildflowers.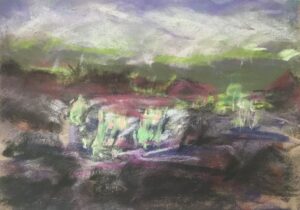 Seeing it I instantly remember that feeling of being held. Of safety and love, of waving at myself and of myself waving back.
The fog began to recede.
I set aside painting number one and pulled out a new sheet of paper.
As I painted the second painting, the fog completely disappeared and left a feeling of expansive freshness.
I saw the moon coming up in the east over the Atlantic. The sun shone once more on the masts and church spires. A Windjammer caught the last breezes among the islands in the bay. Everything felt so fresh and new.
My second painting reflects that freshness.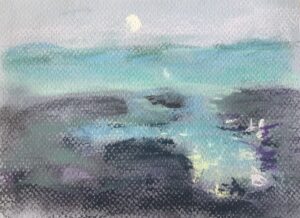 It's deep blues and azures and greens.
And that moon! Almost full, serenely sailing above it all.
Viewing these paintings together, I feel joy and a sense of peaceful relaxation.
I am immediately brought back to the top of Mount Battie on a wild, beautiful evening in June 2022.
An evening when the universe reminded me to be guided by love instead of fear.
An evening when the art I created joyfully pointed me in the direction that my heart knew was right for me.
Can art save lives?
Unquestionably.
Art says things without words. It helps people know how they're feeling and express that… Both in the viewing and in the creating.
By now, art has saved my life more times than I can count.
(The events of that evening… and the two paintings that I share about above…lovingly informed this 10 X 16″ that you see here, Camden Harbor from Mount Battie II.)